Ingomu Advisors
Our Ingomu Learning Advisory Board.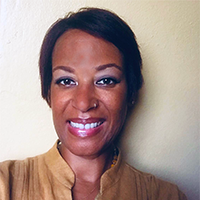 TRACEY GIBBONS

Tracey fell into yoga by accident. Well, that's what she thought, but when someone offered yoga practice with a view of the ocean she could not resist. God knew what she needed to start her journey of healing and self-discovery.
It wasn't until 2012 that she earned her 200 YTT certification because she realized that all women needed to feel as good as she did after a class.
Presently, she teaches Accessible Yoga in Bermuda after being certified by Jivana Heyman, the Founder and Director of Accessible Yoga in July 2019 in Denver, Colorado. See more about Accessible Yoga here https://accessibleyoga.org. Her area of expertise is guiding older women in yoga practice, because so often older women in bigger bodies are ignored by the yoga community. She teaches with care and respect; practitioners feel safe and comfortable in bodies they have forgotten to love.
Alongside her daily yoga practice, Tracey has delved into soul work through her teacher and friend. She has learned to recognize her shadow self and heal past trauma. This work is never-ending, and she is grateful for having met her soul family, by chance...or was it?
She is on the path of becoming a yoga therapist and aims to complete her studies in 2020.
For now, she teaches yoga at a private studio in Bermuda part time while working as a full time Spanish teacher
Tracey is looking forward to being part of the Ingomu Learning Advisory Board, sharing her guidance on diversity and expertise on accessible yoga practices.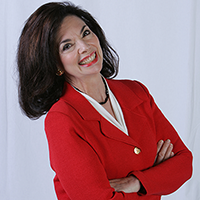 JOYCE GIOIA [joy-yah], MBA, CSP, CMC

Certified Management Consultant, Joyce Gioia sees her role as preparing participants not only for their current roles, but also for what comes next in the World of Work. When she is talking about a skill or a how-to, she will always illustrate with a story and/or why it is important. She strongly believes that has "the-why" is vital for understanding of The Big Picture. She is also a firm believer that people will learn better by doing, rather than by merely hearing or seeing. A strong believer in the use of multi-media to engage students, Joyce's classes will include audio and video interviews and exercises that illustrate her points.

The author of three business bestsellers, including How to Become an Employer of Choice, Lean & Meaningful: A New Culture for Corporate America, and Impending Crisis: Too Many Jobs, Too Few People, Joyce has been writing and speaking about leading high-performance teams for over 25 years. With an MBA from Fordham University, she has spoken on seven continents and is regularly quoted in the national press, including The Wall Street Journal, New York Times, and most recently, Joyce in TIME Magazine. Moreover, she has appeared on local and national television in the US, New Zealand, and Ghana more than 70 times.
For more than 25 years, Joyce has taught leadership to executives and HR Professionals around the world from Maui to Macau and Boston to Bangkok. Her experiential approach is more than just lecture; her goal is to teach her participants skills they may implement right away to be better in their roles.
Years ago she was the first person to promote the concept of "Internal Marketing", bonding with employees as valued customers. And finally, her groundbreaking, new book Experience Rules heralds the rise of the CExO (Chief Experience Officer). Joyce also worked with BP and Procter & Gamble Latin America to create organizational innovation.
Joyce is currently serving as the Clinical Professor for Leadership and Innovation for the Fall 2019 Voyage for Colorado State University's Semester at Sea. Joyce is looking forward to opportunities to share her enthusiasm for what works in corporate cultures throughout the world through Ingomu's technologies.
"I have long believed that there was tremendous potential to capitalize on the new technologies to engage participants in training and coaching. Ingomu has done just that. As a futurist, speaker, and consultant, I am thrilled to join this group of consummate professionals working on the leading edge."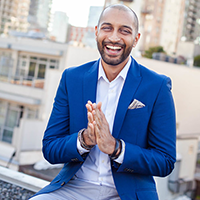 TERRY SIDHU

Life Coach, Meditation Teacher and Founder of VanCity Life Coach Inc., Terry Sidhu, is on a mission to "help evolve the human experience." Terry's intention is to teach and inspire independent mental health management and break people free from a cycle of misery and self-neglect, with the range of services he offers. Utilizing his education in Marketing and Psychology, paired with his childhood education in Meditation, Terry's multidisciplinary approach has put him in high demand for his personal development services. You can learn more about Terry and his work by visiting, www.vancitylifecoach.com.

"One of my core values is to make personal development services more accessible and though many companies have approached me about creating online courses, Ingomu is the first to consider the direction I want to grow in and are willing to work with my operation and pace. I pride myself on my work and I have spent a lot of time and effort establishing authenticity with my brand, Ingomu appreciates this and encourages me to be more myself, whereas, others I had previously partnered with wanted me to play into what I call the, "in-your-face-listen-to-me" motivational speaker approach. Furthermore, what I really do appreciate is that they call me and ask me ways in which we can grow together, we're now working on a VR course and I absolutely cannot wait to start work –the content we're putting together is going to be incredible! And accessible! Lastly and most significantly, they recognize the importance of diversity, so partnering with a company that listens to and recognizes me was a no brainer."