9 Top Benefits of eLearning
The benefits of eLearning can't be overlooked in today's extremely busy world. If you are reading this post, perhaps you are already wondering if taking an online course is right for you. To help you, we're breaking down the top benefits of eLearning, taking courses online as opposed to in person classes. You'll see that taking online courses offers a great deal of benefits to learners. So, if you want to take classes to boost your career, work on personal growth, or even earn a degree, eLearning offers many opportunities to do so in more flexible, affordable and creative ways. Here are our top 9 benefits of eLearning.
VARIETY
The sky is the limit and the eLearning industry is growing rapidly. You can participate in full-fledged degree programs offered online by accredited universities and colleges, and courses offered by online platforms like Ingomu Learning that publish courses addressing targeted topics to help improve careers or work, and enhance personal growth.
According to Orbis Research, the eLearning market size was estimated over USD 165 billion in 2015. The industry is predicted to grown at over 7.5% CAGR during the 2015-2022 period, and set to surpass USD 275 billion by 2022. We believe this growth will bring more course variety and enhanced technologies to make online learning more accessible and engaging.
PRICE
In person education tends to be much more expensive compared to online courses. Prices for a college education continue to rise, and students must account for housing, transportation and other costs associated with traditional higher learning. The average student debt per graduate who took out loans is higher than ever, at $29,800.
Online courses offer learners an opportunity to participate in education much more affordably, and without graduating with significant debt. Online education for credit through universities and colleges will still be more expensive than non-degree eLearning courses offered by a variety of online learning platforms. Some online courses are free, others can be a few hundred dollars.
FLEXIBILITY
Taking courses online is truly a flexible experience. Unless a course is presented live, learners can participate at any time by viewing videos, listening to podcasts, and reading course materials whenever and wherever, using computers and mobile devices. Learners can watch a short video to full lectures, step away at any time, then pick up the course when the time is right. You can work around your work and family schedule easily, not having to worry about scheduled lectures, and the risk of missing one due to unforeseen circumstances. You can learn on your schedule.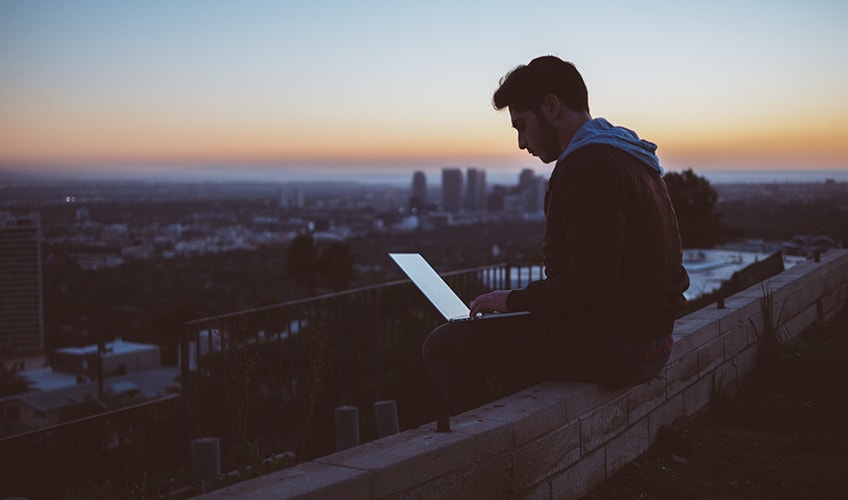 LEARN YOUR WAY
In addition to flexibility, online learning offers a unique opportunity to adapt to your own unique learning style. If you learn best sitting at your desk, then online learning fits your style of study. Some learners however learn better feet tucked under on the sofa, music playing in the background. Others prefer to study from their local coffee shop. Some study best during the day, others are night owls. Online courses offer you the opportunity to create the most ideal learning environment that works for you. Learners are no longer limited to attending courses in lecture halls, they can create the best environment for success taking online courses.
RESPONSIBILITY AND SELF-DISCIPLINE
Flexibility and learning your way can come with pitfalls. Not having a scheduled live lecture in a classroom setting may temp learners to procrastinate when taking online courses. Participation in eLearning does provide learners with an opportunity to learn about responsibility and self-discipline. Time management will be key, and learners will develop life skills that will help beyond taking the online course.
ENGAGEMENT AND RESOURSES
Even though you are generally not face-to-face with your teacher or coach, at least not live, online learning generally offers more access to your teachers. You can send your questions via discussions or private message, and you will receive feedback and resources back from your online coach or teacher, generally better explained than in person would allow for. The classroom setting provides limited time for the teacher to engage. eLearning has no such limit. Teachers can thoughtfully respond to written questions, and generally spend a bit more time answering queries in-depth.
Online course platforms like Ingomu Learning offer opportunities to not only connect with teachers and coaches, but also with fellow learners, creating a community of peers and resources that is much more diverse. These fellow learners can now become a resource and networking opportunity. Online courses are generally also attended by more students than in-person courses, students will be more geographically diverse, and perhaps in background as well, and your network will grow exponentially.
CAREER ADVANCEMENT
For busy professionals seeking to gain a promotion, or wanting to learn something to make themselves better in their job, traditional courses may not be an option. Time can be of the essence with knowledge needing to be increased fast. Only online courses will offer the opportunity to meet these needs. Platforms like Ingomu Learning also offer the opportunity for professionals to participate in mastermind groups, increasing the value of the online course opportunity, bringing tangible resources back to your job. These courses and mastermind group memberships can be added as valuable experiences on resumes. Employers no longer look down on alternative learning methods, in fact, online courses offer a solution to more quickly enhance your resume.
PERSONAL WELL-BEING
Busy individuals suffering from wellness issues may not have the time or resources to participate in groups or live meetings. Online courses and mastermind groups can offer a flexible and affordable solution to assist with wellness and mental health issues, by providing online course materials and the opportunity to meet online with coaches.
REPETITION
Online courses offer the learner an opportunity to go back to a previous session and view the course again. You can review the materials to get perhaps a deeper understanding of the topic, or simply refresh knowledge at any time.
BONUS TIP
Participating in online courses looks great on resumes. Potential employers will see that you are committed to learning, that you are eager to obtain new skills that may benefit your work. Your initiative to educate yourself will make you a better candidate for the job, or promotion.
Some employers encourage online learning and will subsidize enrollment fees. Ingomu Learning even offers tools to help you pitch enrollment to your employer and have your employer pay for the course.
CONCLUSION
Is taking online courses something for you? In all reality, eLearning is not for everyone. Some students benefit from structured classroom experiences. However, eLearning opens up your world to a wide variety of courses offering career boosting opportunities and personal growth. It invites learners without access to traditional education, or who may not want to join a degree program, an opportunity to increase skills easily, with more flexibility and at a lower cost.
LEARN MORE ABOUT INGOMU LEARNING
On a daily basis we meet people who want to improve their skills, be more successful, be more focused, be healthier, sell more, tell better stories. It seems that everyone wants to do better or be better at something. At Ingomu we have made it our mission to help you be more through online courses. We connect you with brilliant coaches who help you grow, personally and professionally. Learn more at Ingomu.com.